GROUND ZERO, New York City--To any woman, walking into a ring of 110 competitive men all armed with clubs and geared to beat anyone who stands in their way, is a Terror experience. Especially when the woman has been warned that she isn't wanted, and that she shouldn't be playing in the same league as the men.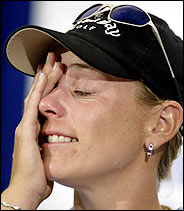 Annika Sorenstam missed the cut at the Colonial by four shots
The Terror is heightened when millions of people are watching, some rooting the single 5-foot, six-inch trim woman on, while others are hoping she'll fall on her face and become a spike mat for all the men who don't want her challenging their "private territory."
That was the case of professional women golfer Annika Sorenstam, the Ladies Professional Golf Association's (LPGA) top player. She slung her bag full of golf clubs over her muscled shoulder and stepped onto the "men's" golf turf, the first time a women has played in a men's professional golf tournament in 58 years. The last visit by a woman was Babe Didrikson Zaharias who played in the L.A. Open in 1945 and made the cut. Unfortunately, Babe didn't qualify for the final round. However, she also made the cut that year in tournaments in Tucson and Phoenix.
Nearly six decades later, Annika made a similar plunge. Facing more than a hundred male competitors, she battled the 7,080 yard Ft. Worth, Texas Colonial Country Club golf course, a strategic course she picked to play because of her skill in placing shots.
But her battle to win a berth in the final cut failed when she was unable to keep up with the pack, scoring five over par for 36 holes, and finishing 96th. She did, however, score better than 11 men. On the critical side, 99 men scored better than she. (link to PGA leaderboard)
Part of me was rooting for Annika, and another part was ruled by the Beast of Terror, hoping she would falter. I caught myself battling my own Beast of Terror, wanting her to make the cut and at the same time, gleefully rooting for her to miss.
One of golf's top players made a statement that he hoped she "didn't make the cut," and that she didn't "belong." The Beast of Male Golfers chuckled in support.
Once upon a time I was a very good golfer, racking up an eight handicap. But I was erratic. I had a bad golf temper, and when I didn't play good, I stormed and stomped and was known to throw clubs--etiquette unbecoming a sport that requires maxim personal discipline.
On one memorial occasion my wife and I went to Scotland. Our goal was to play St. Andrews. It was a horrible day for me in the briar and brambles, but my wife scored one of her best games (and whipped my butt) while I ended up with my worst. She birdied the most difficult 17th hole while I whacked and scuffed. My caddy was so afraid I would explode he lagged back about 50 yards to avoid a helicopter spinning club whirring wildly from my angry hands.
I understood the anger of many men who saw an intrusion into the "old boy's club" by women intruding into their domain. Each woman who played bumped a guy, stole food from his table, cut his chances of a moment of glory.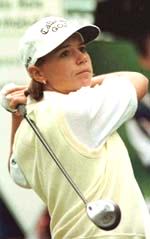 LGPA top player, Annika Sorenstam
I wrestled with the thoughts: "Well, if women can play on the PGA, and all things are equal in the eyes of competition, then why not have men start playing on the LPGA? If I were a guy looking to win some bucks, why not slide down to the LPGA, pick up some tournament cash, and then slide back up to the PGA? And, if things got tough up in the PGA, I'd just slip down to the LPGA, scoop up some victories, and then yo-yo my way through golf."
Terror attacks are supposed to produce Fear in the populace, and as a man, I was afraid of a certain part of my male domain being invaded. I didn't like the feeling.
Annika's parents supported her and her sister, Charlotta. The girls played soccer, tennis, badminton, and later on, both took up golf. Charlotta says "we were the little boys they never got."
I have two daughters. Both are superb competitors in their fields. All their lives, my goal has been to teach them they can do anything, and that the world measures a person not by sex but by achievement. And, that all barriers that stand before them are nothing more than challenges, not booby traps.
They heeded that advice, well reinforced by their mother. One daughter went on to become an accomplished peace activist, fighting for marginalized, disenfranchised people. The other became a federal law enforcement agent. She packs two 9mm Glocks, and works undercover to root out criminals. Her world is a generally male-dominated force of testosterone, in which she must compete on an equal level against people who carry weapons and will kill to avoid jail.
Also, both of our daughters were superior sports competitors. One went on to become a national champion softball pitcher and a Junior Olympic Volleyball Silver Medalist. My wife and I coached young girls in softball, and I prided myself in being able to help girls rise above the ceilings often placed on them in the competitive field.
This is where my angst came to play.
That part of me that wanted Annika to achieve, to break out of the mold, was under severe stress by the idea of the "men's club," and that certain competitive areas were isolated between men and women.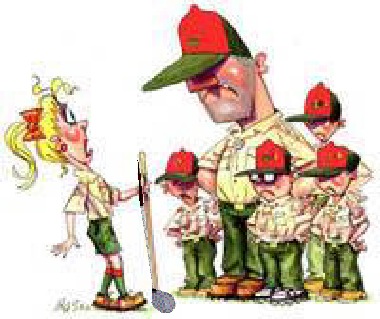 Annika was harassed by the Beasts of Male Terrorist Chauvinism
Of course, I knew that thinking was simply "macho chauvinism," but the feelings were there. When Annika stepped up to the tee or approach shot, I could feel the Sentinels of Vigilance rooting for her to make a good shot, and simultaneously, being harassed by the Beasts of Male Terrorist Chauvinism, wanting her to duff the shot.
I also knew that on any given day any golfer could shoot a great or bad score. A lot of the game had to do with the alignment of the stars. I'd heard many legends of a famous pros walking into a club house, buying a putter out of club barrel, and smoking the course.
Who knows exactly why one day shines on any competitor and rains on another?
I knew one thing. The Swedes were yelling in Annika's native tongue, "Da Ga Flicka," which translated means, "go, girl!"
I had fought all my life for equality in sports, business, and politics for women--if for no other reason than I knew it was unfair to my own daughters to be limited by gender versus achievement. At the same time, my male selfishness raged. Part of it was because golf was my special sport, the one I excelled at and took pride of ownership in. I had never thought of golf being an "integrated" sport from the gender view. It seemed golf was a combination of power and strategy, not unlike the war in Iraq where the U.S. strategically drove bunker-seeking missiles into targets about the size of a green with the accuracy of a Tiger Woods.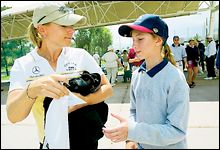 Annika signing autographs
Terrorism creates Fear, Intimidation and Complacency as its radioactive fallout. It is neutralized by Courage, Conviction and Right Actions for the Children's Children's Children.
My final attitude about the playing of Annika in the PGA was shaped by one of the golf announcers comment about his young son. He was saying that his son was rooting for Annika, not because she was woman trying to "beat the men" or break "barriers," but because she was courageous enough to try.
I thought about the role model of a woman symbolizing to a young boy that the "attempt was the victory."
Children in a world of Terrorism need examples of Courage, Conviction and Right Actions. Whether these models are women or men is not important. What is important is that the Beast of Terror fades into the sunset when it comes to tee time.
"When I was a little girl, I looked up to a lot of the players, and I wanted to be like them. And if I impacted any girl around the world to come out here and watch golf and learn, and follow their dream, if it's golf or if it's singing or whatever. That's wonderful." Annika Sorenstam
Just teeing up the ball was an act of Courage, and, playing in a field commonly reserved for "men only" was an example not of "women vs. men power" but an example of Vigilance. It was ultimately a signpost to a young boy that achievement exceeds gender, and that Vigilance is much more powerful than the Terrorism of not trying.
"Da Ga Flicka," Annika!
Our Sentinel of Golf Vigilance!

May 23--Terror Island or Vigilant Island?
©2001 - 2004, VigilanceVoice.com, All rights reserved - a ((
HYYPE
)) design