GROUND ZERO, New York City, Apr. 14--As the weeds of war die in the deserts of Iraq, flower power is blooming at Macy's, a sign that life exists after death.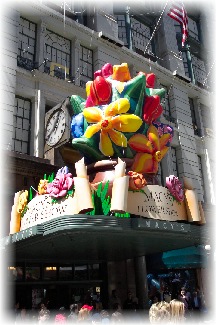 The 29th Annual World Flower Show at Macy's
At least, that's how I felt yesterday when I walked into the 29th Annual World Flower Show at Macy's department store in New York City and was greeted by more than one million blooming flowers representing 30,000 species from six continents.
After months of saber rattling about war with Iraq, and then a swift and efficient past month of combat, war and all its stress and strain has taken a heavy toll on many. Pro and anti American rallies forced many divisions within and without America, pitting people against one another.
Then came the glut of news. Twenty-four hours a day, war news hailed down on millions. The world was the inundated with liberation photos of Saddam statues being torn down, and a sigh of relief that perhaps the war was over--at least the first phase.
For each person, I assume, something punctuates the beginning and end of any major event. For me, the period put behind the "war in Iraq" came this past Sunday via a number of events.
First, was the release of seven P.O.W.s, the five taken with Pfc. Jessica Lynch plus two Apache helicopter pilots. It was a great feeling to know they were all safe.
Second was the 29th Annual Macy's Flower Show and Petacular.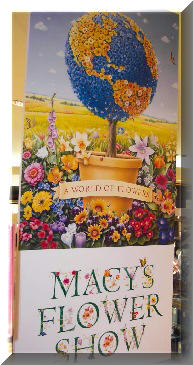 It was Palm Sunday, and following church, our family planned a trip up to Herald Square to see Macy's Petacular.
Petacular is a fun event held in front of Macy's each year designed for kids and families to kick off spring. People bring their pets--dogs, cats, turtles, pigs, birds--and dress them up in costumes. The animals are judged for the cleverness and creativity of their costumes by celebrity judges. The host of the Petacular, a giant bumble bee, describes each pet to the cheers of the kids and parents.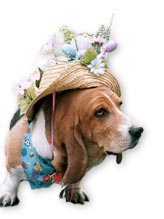 The Petacular was a lot like Doggy Disneyland
It was a lot like Doggy Disneyland. For a few moments you forgot about a war, and the looting and sniping still going on in a troubled land thousands of miles away. You forgot about the looming issue of Syria harboring fugitives from Iraq, or Kim Jong Il's missiles pointing toward Japan and his ability to make nuclear bomb-rich plutonium. You forgot about SARS and the potential epidemic from Asia working its way to the U.S. You even forgot--momentarily--that in just a couple of days the biggest Terrorist of them all--Tax Day--was coming, and the government's hand would be stuffed deep into your pocket.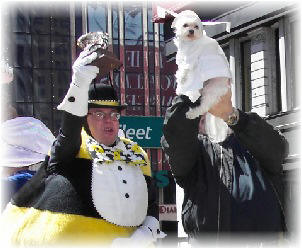 The Flying Nun was the Grand Prize Winner at the Petacular
All those issues found no room to roost as I watched the faces of my grandchildren fixed on a dog dressed to look like a flying nun, and another garbed out in Marilyn Monroe frills, and a pot-bellied pig rooting on the stage, followed by a hamster with a cute hat, and coiffed cats trying to look sedate with the smell of canines keeping their claws coiled.
I cruised through the crowds, watching the young children slack-jawed as the animals and adults paraded themselves on a riverboat stage setting, replete with red and white paddle wheeler tooting its horn whenever one of the prize categories was announced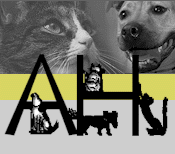 The Petacular benefited the Animal Haven Animal Shelter
Contributions were made to the Animal Haven Animal Shelter by attendance at an earlier breakfast (barkfest) for pets and owners.
Two major blocks were shut down for the event in front of Macy's for a host of different fun stations for the kids. The Magic School bus was there, part of Discovery Learning and Scholastic's effort to make learning fun for kids.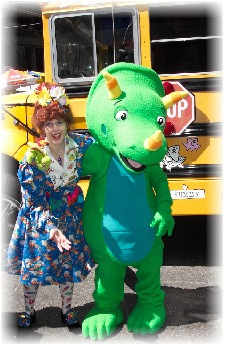 Ms. Frizzle and Liz with their Magic School Bus
Ms. Frizzle and her sidekick Liz, the lizard, were on hand to make the fantasy come to life.
Giant lobsters, lions and kangaroos made the kids giggle and feel as though the entire world was designed for them. The sounds of war were far distant, muted, muffled from their innocent ears.
The only glitch was when the grand winner of the Petacular was announced a loud bang resounded, a sound not unlike that of a gunshot. For a moment my instincts were to dive on top of my grandchildren to shield them, wary that Macy's must be under some Terrorist attack.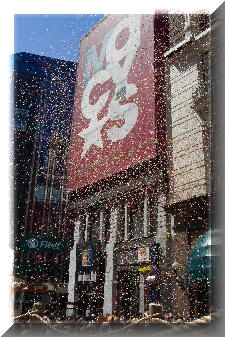 The confetti guns startled the crowd
But it was only the sound of confetti guns going off, spewing into the air tens of thousands of chunks of brightly colored paper that flipped and fluttered down, covering the kids and streets in a palette of spring colors.
Once the Petacular ended, and the last dog got its trophy, the emphasis turned from the outside of Macy's to its century-old insides.
Founded in 1902, Macy's was the first of its kind department store. It still maintains the role of world leader in that arena.
Each Spring for the past 29 years it has launched an annual flower show, and this year was no different.
Inside the store, the first floor is host to a massive forest of flowers.
The 100,000 square-foot space utilizes just about every available flat inch of space for flowers and plants--one million in all, representing 30,000 different species. Above the Chanel perfume displays is a daffodil garden. In the Clinique section small Japanese pines dotted by pastel flowers adorn the display.
Liz Claiborne's marketing arena was turned into a botanical garden of color as was Kenneth Cole.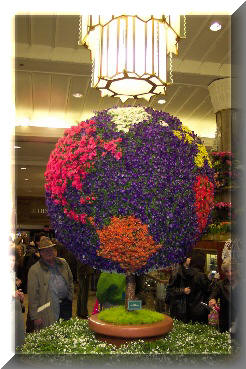 The show stopper flower globe
At the main entrance was the show stopper. It was a 7-foot topiary globe made entirely of flowers--more than 5,000 azaleas, kalanchoes and African violets. The globe turned slowly and I kept looking for where Iraq was, and whether the flowers there were blood colored. Then I tried to find North Korea, and Syria, and then I stopped and just admired the beauty of the flowers and the magic of imagination.
In the publicity on the flowers, Matt Horn, owner of Matterhorn Nurseries who tend the flowers, says he comes each day to inspect the flowers for any that are "failing." If some are "failing," then they are given nutrients or, if necessary, replaced.
I thought of Matt Horn's job as a TerrorHunter.
He tends 100,000 "bodies," and when there are problems he controls "life" over "death." In a way, he is the Tommy Franks of Macy's, the "Flower General" who decides who is strong and who is weak, who will survive and who will die.
Of course, I'm being harsh on Matt Horn. He might not appreciate the comparison between a plant's life and a human life, but to some, there isn't much difference. Both, they claim, deserve the same respect.
But then I had too much war on my mind.
I had this vision of Matt Horn as the Sentinel of Vigilance, guarding against the Beast of Terror who stalks the flowers, trying to weaken them so they sag or turn brown or infect others. I knew a little about gardening. There are Terrorists--aphids, for example--that can attack plants especially roses with a vicious intent.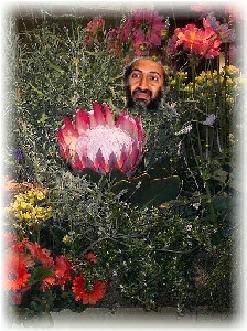 Were Osama.......
Vigilance, knowing Terrorism exists and preempting its assault, holds the enemy at bay. I figured that Matt Horn's job was to keep the Beast of Flower Terror away from Macy's, and at night when the store closed, his steps could be heard marching throughout the store hunting down the Terror, or potential Terror, so that Macy's would be free of suicide aphids and other weapons of plant destruction (WPD).
As I tossed these thoughts around, I began to laugh.
Yes, I had had too much war.
Instead of thinking about Terrorism and Vigilance, I thought about just walking down the aisles of Macy's and soaking up the beauty.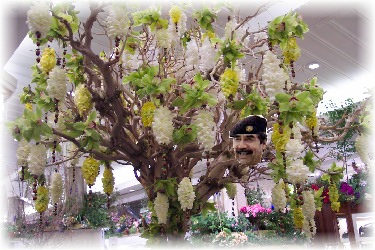 ....and Saddam hiding in and enjoying Macy's flowers too?
I tried.
Oh, did I try. But whenever I did try not to think about combative thoughts and made a concerted effort to only see the beauty of plants and flowers and the wonderful aroma of spring and life, I kept seeing faces in the leaves.
Behind this plant or that bud, I was sure I caught a glimpse of a face.
I blinked.
No. I didn't want to think that.
But, I just couldn't help it.
Yes, there it was. The face of Osama bin Laden behind an azalea.
No, it was the face of Saddam Hussein.
Were they both here at Macy's?
Ah, I knew I'd seen too much, thought too much, and written too much about the battle with Terrorism.
Petacular Participants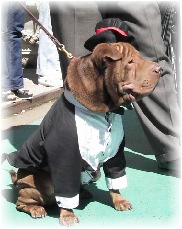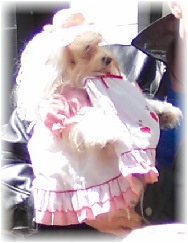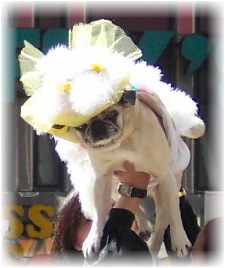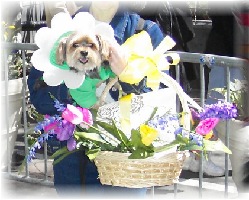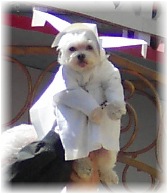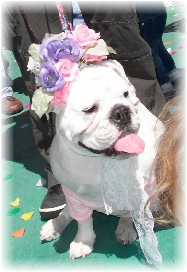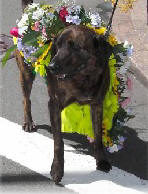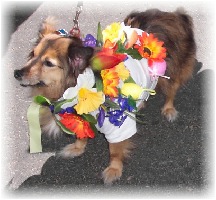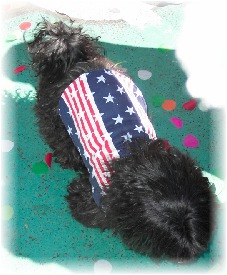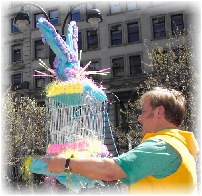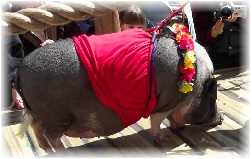 Fun for Kids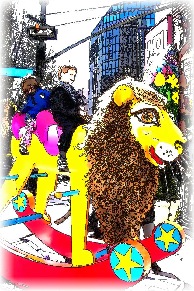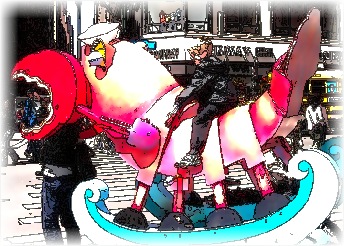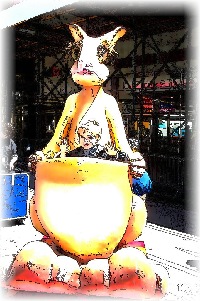 Flower Fantasia
April 13--Frozen Moments Of Terrorism
©2001 - 2004, VigilanceVoice.com, All rights reserved - a ((
HYYPE
)) design