The VigilanceVoice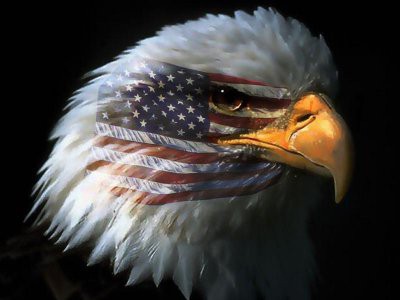 VigilanceVoice.com

Thursday -- June 20, 2002—Ground Zero Plus 281

Cycles Of Vigilance Roar Into NYC
by
Cliff McKenzie
Editor, New York City Combat Correspondent News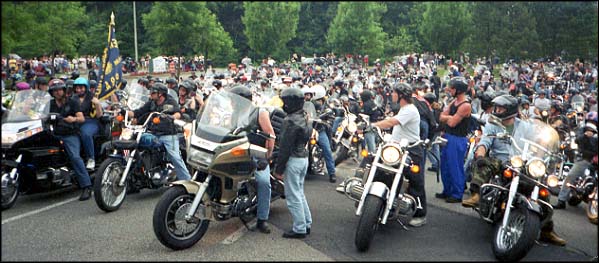 GROUND ZERO, New York City, June 20--Thousands of motorcycles swarmed Little Italy last night as part of Gooch's Garlic Run--a convergence of Bikers Of Vigilance, ranging from Hells Angels to Blue Knights. Blue Knights are current and former police officers who raise money for charities, including helping donate funds to the families of World Trade Center victims.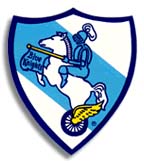 .
An estimated 2,000 "Cycles Of Vigilance," led by police escorts, weaved their way across New York and into the Little Italy district where they ate and celebrated the 15th annual Gooch's Garlic Run--started a decade and a half ago by a cycle buff police officer named Al Monaco.
Laura Martel, a 30-year-old 911 dispatcher from Washington, N.J. rode sixty miles on the back of her boyfriend's Suzuki Marauder. "This is our first year," she said. "We came to support the families from Nine Eleven."
Martel was off-duty on September 11, on a medical leave of absence. She rushed into the city the following day to offer her help with her boyfriend and motorcycle buff, Greg Church.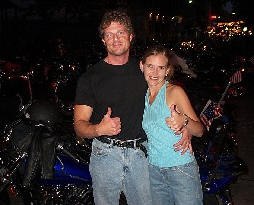 Laura Martel & Greg Church
"We felt we had to help," she said. Martel's father is a U.S. Marshall.
Bob Titolo and Anthony Pirolo, retired police officers from Suffok County, Long Island, are part of the 15,000-member Blue Knight motorcycle club that sponsors the charity event. The Blue Knights boast 430 chapters in 19 countries, and have been riding for charity since the Spring of 1974 when Ed Gallant from Bangor, Maine Police Department
and Chuck Shuman from Brewer, Maine PD launched the organization.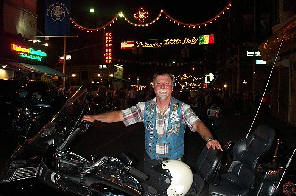 Anthony Pirolo, ready to travel across the U.S. in tribute to Lewis & Clark
The club's press release notes that from September 1, 1991 to March 30, 2002 the Blue Knights have donated to 1677 charities; contributed more than 137,494.5 hours of time, and over $3.2 million in cash contributions. They call themselves a "family fraternity," urging spouses and children to ride on all events.
Anthony Pirolo says the club has brought him close to his 13-year-old son. "He goes with me everywhere," Pirolo said, who has been riding since 1969. He has visited forty-nine states, all the National Parks and Canada. This summer he plans on taking his son on the Centennial celebration` of the Lewis & Clark Trail, riding from Wood River, Illinois to the Pacific Ocean.
"We have a ball," he said. "I love my bike," Pirolo commented, and, urged by his friends, kissed his bike's gas tank.
"We don't ride alone," his friend Titolo, added. "We're Vigilant. Before we leave on a ride a priest blesses our bikes...we have a bike blessing. It helps us all remember safety first."
Not only was Little Italy filled with police and former police riders, but also various motorcycle clubs from throughout the United States participated. Some of the bikes glowed in the dim light, their engines washed in a radiation of neon to set off the chrome and stop gawkers in their tracks to admire the mechanical stallions' beauty.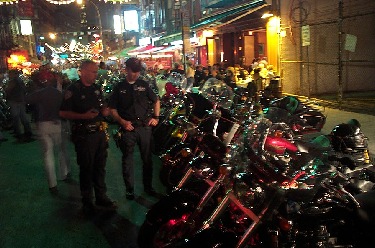 Police Officers admire bikes at 15th Annual Garlic Run
American flags dotted the antennas of the bikes, as well as MIA-POW flags. Helmets carried messages to the Terrorists that "These Colors Don't Run!" and "Osama bin Laden Sucks Exhaust!"
The president of the NYC Hells Angels and two of his members strolled down the row of gleaming motorcycles, examining them and soaking in the festivities celebrating the most popular of all cycles--the Harley Davidson.
The sidewalk was littered with tables jammed clear to the edge of the street, with some tables next to the parking meters so that "No Parking" signs seemed to spear out the table's center as thousands ate Italian food and drank wine.
Not far from the festive Garlic Run stood the quiet 16-acre hole where the World Trade Center once rocketed nearly a quarter mile toward the heavens.
Rescue work had stopped effective May 30, the official closing of the "search for survivors or their remains."
The wave of Life that poured into Lower Manhattan might seem to an observer to be negligent in paying its respects to the fallen not many blocks away. But anyone who knew the majority of the riders present were police, firemen, emergency workers, realized that in their hearts was a special memorial for the hundreds of brave who died that September day trying to save thousands.
The days when everyone wore symbols of Vigilance regarding Nine Eleven have passed. Time has a way of cleansing old wounds so that Life can proceed. But there were a few poignant reminders.
My wife spotted one. A man wearing a Nine Eleven T-shirt, wending his way through the thick stream of humanity shuffling up Mulberry Street. I caught up to him and took a picture of his shirt. It looked fresh, new. Perhaps he had just bought it, I thought, or perhaps he had a drawer full of new ones he wore to special events.
It didn't really matter.
I snapped the picture.
As I did, I was sure I could hear the Sentinels of Vigilance above Ground Zero sigh in relief.
They had not been forgotten.
The Blue Knights, Hells Angels and the other cyclists there would not let that happen.
Not as long as they rode and the winds of Freedom blew in their faces.
Below are links to a picture page showing a variety of photos taken at the Garlic Run--if you are interested in seeing over $20 million worth of beautiful motorcycles, then click on the this link: Cycle Photos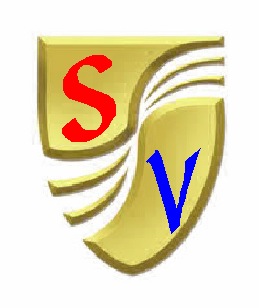 Go To June 19--Martyr Medals--Heroes Of Terrorism

©2001 - 2004, VigilanceVoice.com, All rights reserved - a ((
HYYPE
)) design