GROUND ZER0, New York, N.Y.--Dec. 25, 2003 -- Happy Holiday to everyone.
We at VigilanceVoice.com wish you and your loved ones, and all the Parents, Grandparents and Loved Ones of Vigilance a very happy Christmas and New Year. We honor each of your different celebrations representing the 193 different countries and countless thousands of cultural and ethnic variations that comprise this earth of some 6 billion people, one-third of whom are considered "children."
It is our duty as Parents, Grandparents and Loved Ones of Vigilance, as well as simple Citizens of Vigilance, to provide messages and modeling that help the children ward off the Beast of Terror's attacks.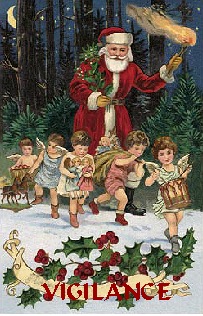 The Legends of Vigilance teach us all to face Terrorism with the Principles of Vigilance
From December 20 through and including December 24, we developed the Legends of Vigilance. They include a five-part saga of how the Sentinel of Vigilance taught the children of the Land of Prosperity how to keep the Land of Prosperity from falling into the hands of the Beast of Terror. The children learned the Three Secrets of Vigilance, told in the Great Hall of Vigilance by the Sentinel about how their land, once ravished by poverty of mind and body, was swept clean of Fear, Intimidation and Complacency.
The lessons are wonderful discussion points for you to have with your own family, regardless of age. For within us all exists the Child of Vigilance, or, the Child of Terror. Some of us grow older in time, but inside, we are still frightened children hiding from the shadows of the Beast.
We can all break the Bonds of the Beast if we are willing to face his Terrorism with the Principles of Vigilance. The Legends of Vigilance teach us all--young and old--how to achieve that goal.
Below are links to the various story parts. Each is beautifully appointed with pictures deftly placed by G-Ma Lori to enhance your visualization of the story. Also, we've provided a "printer friendly" version without pictures for easy printing and downloading.
We encourage you to read the messages, and email them to your Loved Ones for their consumption.
Our gift to you, this great Holiday, is the knowledge that none of us ever have to live in the shadow of the Beast alone. Together, we can shrink him to a mere dot, and live forever in harmony and peace, but always with one eye open and aware of his dangers not only to us, but to future generations.
Happy Holiday.
Vigilantly Yours,
Cliff & Lori McKenzie.
Go to Part I
Go to Part II of V
Go to Part III of V
Go to Part IV of V
Go to Part V of V

Dec. 24--The Legend Of Christmas Vigilance: Part V of V
©2001 - 2004, VigilanceVoice.com, All rights reserved - a ((
HYYPE
)) design