Notes To The Children's Children's Children's...From G-Pa Cliff
GROUND ZERO PLUS 1137 DAYS--New York, NY, Sunday, October 24, 2004--
WORLD SERIES PLAYERS' PRAYERS HIT HOME RUNS WITH ANGELS OF VIGILANCE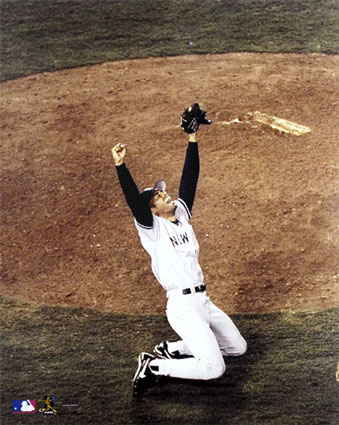 Mariano Rivera reaching up for the Angels of Vigilance during a past year of Yankee triumph
The world is smiling in the midst of madness. The Angels of Vigilance shine over the Beasts of Terror.
Part of the reason is the World Series.

Many baseball players are calling upon the Angels of Vigilance
The best baseball players in the world are competing for the title of World Champions, and the majority of them are calling upon the Angels of Vigilance to help them compete not just for themselves, but for a world free from madness.
Baseball is more than just a sport in the year 2004. It's a religious feast. A spiritual cornucopia. A reminder that we all owe our gifts of life and hope and belief to a force greater than ourselves and our selfish concerns.
Players from all over the world come onto the field, many of them from improvised backgrounds like Yankee relief pitcher Mariano Rivera who started playing baseball in Panama City with a glove made from cardboard, and worked his way up to become one of the game's legendary closers.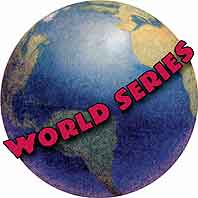 There are countless stories of rags to riches among baseball players from all over the world
Countless stories of rags to riches prevail among baseball players, including those who come here to play from Japan as well as Mexico, Puerto Rico and South America.
But, if you look closely at baseball players you'll notice that the vast majority do not play by themselves. They have angels with them.
Study a baseball player earning millions of dollars and you'll note that he crosses himself before he bats, or kisses a medal and tucks it inside his shirt before every pitch, or, when he bangs the ball out of the park and trots around the bases, he's pointing up to the Heavens, reminding everyone that he had a little help in doing his job.
For the skeptic, agnostic, atheist or simple Doubting Thomas like myself, I find it refreshing that the greatest players in the world, paid millions upon millions of dollars, stop and take the time to thank a power greater than themselves for their great athletic gifts and Hall of Fame feats.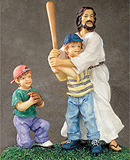 Prayerful petitions or thanksgivings aren't as evident in sports other than baseball
If players in other sports pause to pray or give thanks to some deity, it's not very noticeable and not very frequent. I can't remember the Williams' sisters dropping to their knees and thanking the heavens for their victories, or Tiger Woods crossing himself or pointing up to the Putting Gods in thanks for sinking the fifty-footer to break the PGA Championship tie.
This doesn't suggest or imply that any of these people aren't religious, or don't have incredible degrees of faith or belief in some force that granted them the skills and ability to be the world's best at what they do.
It just isn't as obvious in other sports--if it exists--as it is in baseball.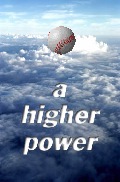 The vast majority of ball players have Angels of Vigilance with them
Some may claim the reason for the adoration to a Higher Power of Competition is that most of the baseball players come from Catholic backgrounds, especially those from Hispanic or Latin American backgrounds where the Catholic Church dominates and devotionalism is not uncommon.
And one can't say it's because baseball is a team sport. So is football. But rarely does one see a football team offering up prayers except in old movies about Knute Rockne engaging the Irish Angels to run interference for him.
As a Parent and Grandparent of Vigilance, there's something powerful about major competitors offering thanks to the Angels of Vigilance.
So often all of us take for granted our skills and abilities and forget to give thanks for them on a frequent basis. A mother who spends a day watching, nurturing, caring for, managing, teaching, coaching, supervising and caring for her children is like a baseball professional. She competes to keep her child happy, joyous, free from want and protected from the pain and Terror of abuse that could so easily infect the child were the mother to be sharp tongued, cold, indifferent to the child.
We take for granted our working skills. How often each day do we pause when we achieve something at work and point to the sky and thank the Heavens that we can compete, that we have a job, that we are doing something productive and useful?
Maybe we can all take a lesson from the World Series in this respect. Maybe watching the game isn't so much about which team will win as much as it is about how each team offers thanks for being able to compete.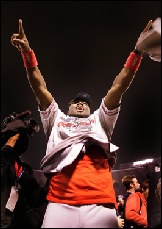 David Ortiz thanking his Higher Power
Certainly, the prayers offered by the baseball professionals isn't about money. Each of them could buy tons of churches and hire their own ministers to walk beside them. But, most of them realize they got to where they are in life because of their belief in something greater than themselves, a belief that transcends money, prestige and power.
At least, that's what I get out of the World Series.
When I see a player praying, I see a man reaching up into the sky to hold the hands of the Angels of Vigilance.
I see a man not afraid to ask for help, and not afraid to admit that the Beast of Terror would love him to forget to give thanks for his gifts so those gifts could be cheapened and then taken away.
I hope each family reminds their children to note how often the baseball players pray or give honor to something greater than themselves.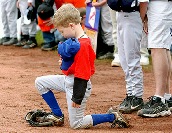 I hope each family reminds their children to note baseball players are honoring something greater than themselves
They are, in essence, taking the Vow of Vigilance each time they do, for they know that winning is about having more Courage than Fear, more Conviction than Intimidation and taking more Right Actions for the right reasons than falling into pits of Complacency.
The Angels of Vigilance are swinging the bats at the World Series.
And, if we all take our Vows of Vigilance daily, they will swing ours too.
Go To Yesterday's Story: "Blowing The Leaves Of Time - A Child's Power Over Nature"