HomeLand Security Terrorism
Barks At & Bites Its Latest Victim
GROUND ZERO PLUS 1189 DAYS,--New York, NY, Tuesday, December 14, 2004--Bernie Kerik knows a little about Terrorism. He was the police commissioner in New York City on September 11, 2001 and witnessed the death and destruction of both civilians and his own men, dying at the hands of Terrorism.
This past week he got another taste of Terrorism. This time it was aimed at him.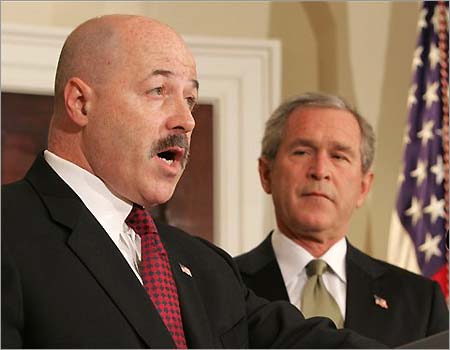 President Bush nominated Bernard Kerik to head up Homeland Security
President Bush hoisted Bernie Kerik up the political flagpole and nominated him to be the head of Homeland Security, a key cabinet post and the pivot point of the president's anti-terrorism platform that won him a second term.
But as Kerik's flag flapped in the wind and created a national target for any and all to take potshots at, a storm hit, tattering Kerik's reputation and pulling the sheets back on his personal life. There, in the bed he made, were Terror Demons, one after another, jumping up and down with glee that the world knew that the man promoted to become the head of Homeland Security was nothing more than a moral and ethical Terrorist in his own right.
It seems Mr. Kerik's past was riddled with character flaws large enough to drive a truckful of explosives through the gates of 100 Pennsylvania Avenue.
His housekeeper was an illegal alien and Mr. Kerik had paid no taxes on her employment. Illegal aliens are a primary concern of Homeland Security since the flow of them through the U.S.'s porous borders exaggerates the threat of insurgency.
Then Mr. Kerik's monetary morality fell into question. It seems he made millions of dollars selling tazers to Homeland Security and allegedly misappropriated funds while serving as the police commissioner, including purchasing a $2,000 pendant from Tiffany's with public funds.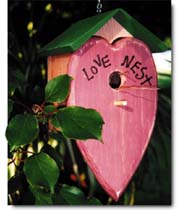 Kerik had two extra-marital affairs at once in the same love nest in Battery Park
The icing on the cake, however, was that despite being married and the father of two children, he maintained an apartment love nest in Manhattan and sported two lovers simultaneously, one a female corrections office and the other the head of a major publishing company.
In one fell swoop, Bernie Kerik became not the Terror Hunter but the Terrorist, a man who violated not one but countless principles of Vigilance necessary to sustain acceptance as the head of the nation's most coveted security post.
The big question on everyone's lips was: "How could a man who abused public money and kept two mistresses on the side, and allegedly had ties with criminal elements, and ignored the law regarding hiring illegal aliens, be in charge of protecting the 100 million households in America?"
In other words, "How could a Terrorist of family values be the Sentinel of Vigilance for them?"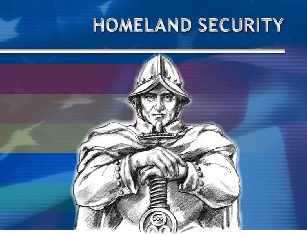 The position of Homeland Security is about being a sentry
The position of Homeland Security is not so much about being a policeman as being a sentry protecting the village from attack.
In days of old the villagers slept in peace knowing that a sentry or a number of them were at their posts watching the dark, warning off intruders that should they try to creep into the village they would be met with deadly force.
The sentry, to do his or her job well, had to be the mother or father of Vigilance for all the villagers. To offer one's life in defense of the whole is a monumental obligation, one that cannot be held in contest with selfish needs or goals.
A sentry who is more concerned about his or her own welfare, warmth, comfort, sleep, will be disinclined to stand in the freezing rain, hungry and cold, and keep a Vigilant eye cocked on the horizon, investing all his or her energy in protecting others despite the discomfort and threats to the self.
In essence, the role of Homeland Security is the role of the Sentinel of Vigilance. The welfare of the 100 million homes in America has to come before all other things. The safety of a mother and her children, of a father and his children, of grandparents and grandchildren, of the helpless and infirm--all has to be the first and foremost obligation of the Sentinel of Vigilance.
Bernie Kerik had other priorities. He had two mistresses and an urgency to promote himself beyond the law. He became his own demise. He was his own Terrorist.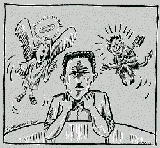 The dilemma now is for another to take the place of Bernie Kerik
Now, the dilemma is for another to take the place of Bernie Kerik. The president will nominate another man or woman for the job, but will that person be flawlessly concerned about the welfare of a 100 million households and the 300 million people who reside within them? Or, will the person be thinking first of himself or herself?
This is conundrum of political appointments, and, the fallacy of anyone who believes the "government" can protect them from Terrorism.
Terrorism is all about what's inside us. It's about our attitude and outlook toward protecting our children and their children. Homeland Security does not belong in Washington D.C., but in each of the 100 million homes where Terrorism can rear its grotesque head at any moment and inflict pain and suffering on any and all in its path.
A child who is told he or she isn't smart enough, good looking enough, lucky enough, is being attacked by the Terrorism of a parent's tongue. There is little difference to such an attack than in driving a bomb into the soul of the child and letting it explode. The child's self-image is being destroyed, a chunk here and there, until the child believes he or she is not as worthy, not as gifted, not as lucky as, not as attractive as all the other children.

The destruction of a child's soul by a parent's tongue is no different from an exploding bomb
Then, there is the physical abuse of children. That form of Terrorism is easy to denote but hard to stop, for the Beasts in the parents often attack the innocence of the child. Beasts of Terror are bullies.
Finally, there is the Beast of Terror within each parent. Mothers and fathers who look into the mirror and see unhappy or not-as-good-as-others people, or reflections of a person who has failed to meet his or her dreams, or considers himself or herself stuck in a rut, is not a Sentinel of Vigilance.
The parent self-obsessed with his or her station in the world, either above or below others, has little time to peer out onto the horizon of a child's inner emotional security and act to protect that child from the countless Beasts of Terror that infiltrate the child's pliable sense of worth.
Only when a parent elects to become a Sentinel of Vigilance, and to fight his or her Beast of Terror, can Homeland Security be truly installed in the home.
If Bernie Kerik serves us any example, he reminds us all that we must first clean up our own houses before we can clean up others'.
Specifically, that means whomever is selected for the head of Homeland Security need be capable of meeting the requirements of cleaning the houses of 100 million households. To achieve that, the person needs to have no conflict with personal goals or obligations--similar to the sentry looking over the village.
But, in practice, this is impossible.
What is possible is that a Bernie Kerik reminds us all we need to take care of our own backyard before we try to clean up the rest of the nation.
That is possible.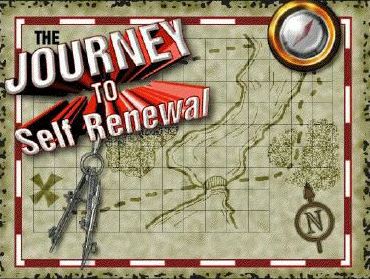 Kerik's lesson to us is that we must clean up our own backyards, get on the right road and be our own head of our Homeland Security
If we all become Sentinels of Vigilance and vow to fight our own Beast of Terror so that we might be better able to protect our children and their children from its Fear, Intimidation and Complacency, then we're on the right road.
So if Bernie Kerik taught us anything, it's that we must be our own head of Homeland Security.
Elect yourself to this post.
Take the Pledge of Vigilance today.
Go To Yesterday's Story: "Year Anniversary Of The Capture Of The Beast Of Terror"