GROUND ZERO PLUS 1097 DAYS,--New York, NY, Sunday, September 12, 2004--Last night, around 9 p.m., I sent the spirit of Bill Biggart floating down the Hudson River, one of his great loves during his life on this earth.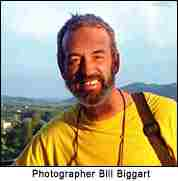 I shared a kinship with Bill Biggart
Biggart, the only news person killed at the World Trade Center on September 11, 2001, was a war photographer. He and I shared a kinship, for we both served as combat correspondents who captured war through the lenses of our cameras, attempting, as any journalist, to preserve war's horror so that future generations might seek to avoid the pain, suffering and anguish it creates.
I didn't personally know Biggart, but I spiritually knew him as one might know a brother.
His sister, Emily and I, have been close friends for years. Emily constant told me how much I reminded her of her brother, an avid sailor as I was, who owned a boat and kept it docked in a slip in the Hudson during the summer months.
I was with Emily the morning of September 11, 2001, having coffee at an outdoors Starbucks when overhead, the glinting belly of a jetliner screamed as it flung itself low, ultimately bound to smash into the Twin Towers and ignite the War on Terrorism we daily face.
As I packed up my computer to rush to Ground Zero, Emily screamed at me not to go. She told me I was as crazy as her brother, always running into the mouth of disaster, risking my life to record events at the edge of death.
I smiled at Emily and told her: "It's my job, Emily. I can't help it."
She gave me a big hug and yelled at me to be careful. At the same instant, unbenownst to her or to me, her brother rushed down to Ground Zero with his cameras. It would be a one-way trip from Bill Biggart. He would die pointing his camera into the face of the Beast of Terror.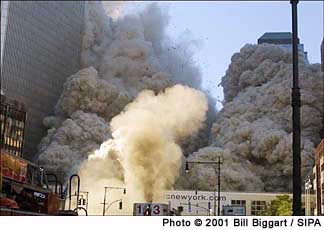 One of the last pictures taken by Biggart before his death on Nine Eleven
I would live to tell about it.
It was horrible over the next few days as Emily waited to hear about her brother. No one had seen him, heard from him. This wasn't uncommon. When Biggart went to report wars and disasters, he was often gone for days, weeks and even months. Often, he was thought dead until his photos popped up, reflecting the ugly, pathetic face of war or disaster in close ups, a trait Biggart was respected for because he liked to shove his camera into the face of disaster rather than use his telescopic lens.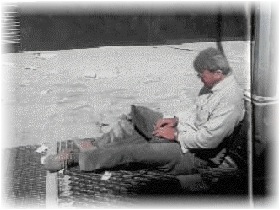 As Bill took pictures of Nine Eleven, I wrote about it
Instead of taking pictures of Nine Eleven, I sat in the rubble and wrote about it. My pictures were words, verbs, nouns, adjectives, preserving as a photo the impact of war on the imagination. Following the collapse of the buildings, I sank down in the rubble and pounded the keys of my laptop as the debris of disaster rained down on my head. I too wanted a picture of the Beast of Horror, only mine would be in black and white with spaces between each line, and requiring a spellcheck to finally develop.
When Emily saw me the first time after Nine Eleven she ran and threw her arms around me and gave me a great hug. "You crazy sonofabitch," she exclaimed. "I'm so happy you're alive."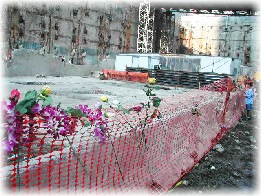 We attended the ceremonies at Ground Zero representing Bill's sister
At the moment she did not know Bill had died. I didn't realize I was her surrogate brother, or that over the next three years I would honor Bill as I would my own flesh and blood, or, treat him as my soul shadow, the part of me that died that day so I could live.
I have always found it ironic that the two journalists--one a former combat correspondent from Vietnam--and the other a modern war photographer--would be so eternally linked by the events of Nine Eleven.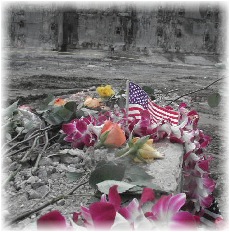 We etched Bill's name on a piece of concrete
The odds that Emily Biggart would be one of my closest friends, and that her brother would die at the same instant at Ground Zero that I survived, and that both of us were there on a mission of reporting the Beast of Terror, is more than coincidence. It is as though the universe takes one thing and gives another, and etches into granite the reinforcement that everything happens so some reason we may not comprehend or understand, but, in the ultimate playing out of destiny, has a clear and defined outcome.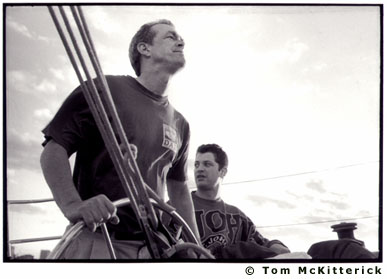 Bill also loved sailing, another enjoyment we shared
When Emily found out her brother had been killed, she went into a rage, not only against me, but against the insanity of war and people who put themselves in harm's way to face it. I held her as she cried, and over the following months and years, served as a bridge to her brother in my own particular way.
Emily gave my wife and me the family number that provided access to all events for family members so that we could represent her in honoring her brother. She could not handle them herself.
We went down into the original pit--the empty, ominous grave of Ground Zero when President Bush came to console the victims of Nine Eleven. Then, it was only a recently spaded grave, towering some hundred feet up, and reeking still of the smell of death.
We etched Bill Biggart's name into a slab of broken concrete, paid our respects. I had deep chills. I felt I was walking on the bones of the dead--and I was.
Over the course of the past three years, we have attended many events in honor of the dead. Our presence is to honor their lives--the legacy that they still exist hovering over Ground Zero, reminding us all to be Sentinels of Vigilance...to fight the Beast of Terror with Courage, Conviction and Right Actions for future generations rather than succumb to the Triad of Terrorism--Fear, Intimidation and Complacency.
Last night, we honored Bill Biggart in a special way.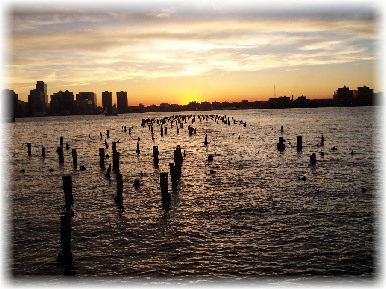 A floating lantern ceremony commemorating the WTC victims was held at Pier 40.......
At Pier 40, a group of Buddhist monks arranged a tribute of lights, a traditional floating lantern ceremony commemorating the victims of the WTC. The ancient custom of "Floating Lighted Lanterns" in the waterways is a symbolic way of respecting the lives that have gone before us. Also, it can represent a light of hope for peace and harmony that are sent out over the waters of transmigration.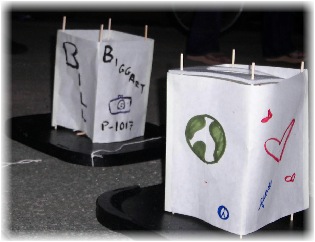 ..and my wife and I painted Bill Biggart's name on one to honor his memory and the light he gave the world through his pictures
My wife and I painted Bill's name on a sheet of paper cut in the shape of a lantern that was then draped over a frame that composed a floating candle. We also included the logo of the VigilanceVoice--SV--for Semper Vigilantes--always vigilance.
As night descended, kayaks paddled to the pier and pulled the lighted candles--over 120 of them--around the harbor. It was perhaps Bill Biggart's last official sail on the Hudson.
Just a few blocks away, two lights speared up from Ground Zero, symbolizing the mystical remembrance of the Twin Towers. Inside the beams of light danced sparkles, fireflies of the soul, igniting as though they were the spirits of Nine Eleven circling in the beam of light.
As we walked home to our East Village apartment, I called our grandchildren. Sarah, our six-year-old, answered. I told her about going out in her backyard and looking up at the lights in the sky.
"What are they, G-Pa?" she inquired.
"They are ladders to Heaven," I said, prompted to do so by my wife who was listening.
"Ladders to Heaven...wow, G-Pa. That's cool." I listened as she paused. I could hear her voice ringing out to her mother: "Mommy...mommy...can we go see the lights outside...up in the sky...G-Pa says they are Ladders to Heaven...can we...mommy...can we?"
I thought about Sarah's eagerness to see the Ladders to Heaven Lights.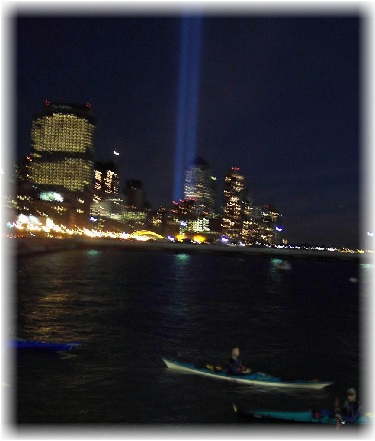 I told my grandaughter the lights shooting up in the sky were "ladders to heaven"
I thought about the sparkles in the shafts of light that appeared to dance and sparkle, as though they were the souls of all the Sentinels of Vigilance. Part of me wanted to discount the sparkles as mere dust caught in the shafts, but the other part knew they were far more.
So did my granddaughter. She knew the Ladders to Heaven were real even without seeing them.
It is so that I know Bill Biggart is in the middle of the Circle of Vigilance, taking pictures of the Sentinels of Vigilance battling the Beast of Terror. He has not stopped living--even if he's not here on this earth in physical form.
I saw his pictures last night.
They were the sparkles in the light.
They were the Ladders to Heaven.
Photos from Ground Zero September 11, 2004
Photos from Floating Lanterns Nine Eleven Ceremony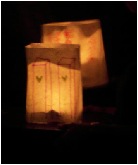 Thank You Bill