GROUND ZER0, New York, N.Y.--Jan. 4, 2004 --Terrorism starts at home, and the path is beaten back to the womb.
But, the kids pay the price. At least, that's the trend.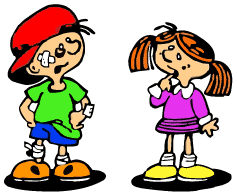 Kids pay the price
In Lucas County, Ohio, for example, there were more than 1,700 arrests last year for violating the school safety and dress codes. Detention has been replaced by bars and a cell in Juvenile Court, according to the New York Times.
In Miami-Dade County, Florida, there were 2,345 such arrests according to the report.
An eight-year-old who urinated on the classroom floor and yelled, "Kids Rule," was hauled off for his crime of misconduct. Another 14-year-old was put in handcuffs when she refused to remove suggestive clothing for more appropriate dress code apparel.
The strict "go-to-jail-or-conform" rules were established in the 1990's after a rash of school homicides as an attempt to quash school violence. But, according to the Times' story, jail has become a supplement for discipline. Incarceration has become the iron-barred spanking.
Opponents to the "go-to-jail" system shout it hardens the child, putting the child on the "cell" path toward crime-and-punishment. It foreshadows, they say, an endemic problem in society regarding the mismanagement of children.
Who is responsible?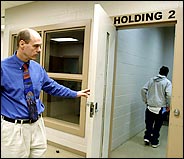 An intake officer at the Lucas County juvenile court in Toledo, Ohio, escorts a 12-year-old seventh grader into a holding cell
Ultimately, the answer is the parents.
Children are mirrors of their environment, they always have been and always will be. The true "criminal" in such cases is not the behavior of the child, but his or her upbringing.
Therefore, the penalty for violating such regulations rests with the parents and guardians.
But what is the solution? Putting parents in jail seems only to further the policy of Parental Complacency in such cases.
The state, now taking on the guardianship of "juvenile Beast Control" is finding its hands filled with the problems of parenting, and, is ill-equipped to provide any form of repair other than containment and fine.
That's where the Parents of Vigilance Systems come to play. Facing a growing crisis in child management suggests that our training systems for parenting are ill prepared to deal with the issues of recalcitrant behavior.
Perhaps that's because we don't teach children about the Beast of Terror, or how he gnaws and chews at the marrow of discipline to create a Tiny Terrorist whom he can lead down the wrong path and use to disrupt society and smash orderly societies.
Perhaps it is time to install in our school systems courses as dominant as English and History called: "Taming The Beast of Terror--Our Duty As Sentinels of Vigilance."
Shouldn't children be educated on the presence of their Beast of Terror and how to cope with it? There is a rift in our society today of great size, a gulf between an individual and his or her knowledge of his or her Beast of Terror and how to use the Principles of Vigilance to battle it.
The thousand forms of Fear, Intimidation and Complacency can be countered with many facets of Courage, Conviction and Right Actions that benefit the Children's Children's Children only if a child is educated on how to fight the demons.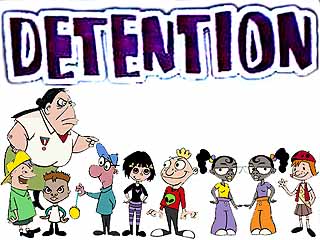 Children must be educated on how to fight the demons and not become them
Socially, culturally and economically the Beast of Terror rules regardless of social levels. The higher economic rungs breed children who come to classrooms and shoot their fellow students, just as lower economic rungs breed children who urinate on school floors.
It is time for the Sentinels of Vigilance to enter the school curriculum, to be embossed upon a child as a path toward the higher not lower evolution of life.
When a child learns that Courage can overcome Fear, and that Conviction can trump Intimidation, and that Complacency can be ten-fold less valuable than Right Actions that benefit the Children's Children's Children, then the Beast of School Terror will shrink and cower.
Until that day, we will continue locking up the children, and, perhaps the parents. But, all we will really be doing is feeding the Beast, not starving him.
©2001 - 2004, VigilanceVoice.com, All rights reserved - a ((
HYYPE
)) design
Jan. 1--Times Square: The Morning After